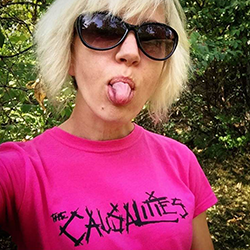 I've lived all over the US, finding solitude amidst the chaos of cities and chaos in the solitude of nature. I'm a maker, a thinker and a doer who's been involved in community events, civic beautification and placemaking efforts. I spend my free time wandering the streets, finding beauty in seemingly mundane minutiae, learning my community on the granular level. No matter where I am, I'm firmly rooted.
Way back when, I was profiled in the New York Times and on the long-forgotten TV show Internet Tonight [I've got this on VHS if anyone's curious]. My work appears in the books Lettering and Type: Creating Letters and Designing Typefaces, Just Design: Socially Conscious Design for Critical Causes, Guide to Graphic Design, 365 Habits of Successful Graphic Designers, 100 Habits of Successful Publication Designers, Indie Publishing: How to Design and Publish Your Own Book, The Typographic Universe: Letterforms Found in Nature, the Built World and Human Imagination, and The Designer as…: Author, Producer, Activist, Entrepreneur, Curator, and Collaborator: New Models for Communicating. I've also discussed ghost signs on WVXU and inventory management on MSNBC's Your Business, and my possibly fictional art gallery was profiled in CityBeat.
Oh, and also? A cantankerous charmer. Pacifist anarchist. Misanthropic socialite. I'm pretty sure you should follow my pretty nonsense on Instagram, because I'm the fun friend you just haven't made yet.
Save
Save
Save
Save
Save
Save
Save