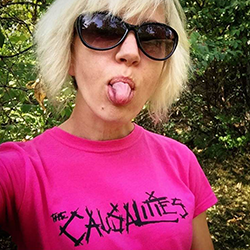 I've lived all over the US, finding solitude amidst the chaos of cities and chaos in the solitude of nature. I'm a maker, a thinker and a doer who's been involved in community events, civic beautification and placemaking efforts. I spend my free time wandering the streets, finding beauty in seemingly mundane minutiae, learning my community on the granular level. No matter where I am, I'm firmly rooted.
I'm an obsessive visual storyteller; please check out East Walnut Hills on Instagram and the highlights of the blog I maintained for eight years. A few of my photographs are included in The Typographic Universe: Letterforms Found in Nature, the Built World and Human Imagination by Steven Heller and Gail Anderson, published by Thames & Hudson.
Oh, and also? A cantankerous charmer. Pacifist anarchist. Misanthropic socialite. I'm pretty sure you should follow my pretty nonsense on Instagram, because I'm the fun friend you just haven't made yet.
Save
Save
Save
Save
Save
Save
Save